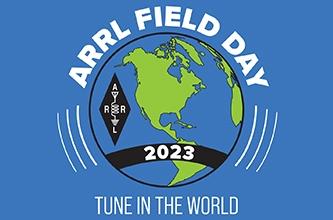 On behalf of the entire BVRC membership, Tom Northfell, W5XNA, Field Day Coordinator, and Jan Hagan, WB5JAN, BVRC President, would like to welcome and encourage our members to make every effort to attend our club's Field Day on June 24th and 25th at Metfield Skills Park in Bella Vista.
This year's Field Day is an opportunity for BVRC to share with the community in Bella Vista and throughout Northwest Arkansas the value and fun of our amateur radio hobby.
We encourage you to attend along with your family to help us celebrate and enjoy Field Day as part of BVRC's 30th year anniversary. We will be visited by several Bella Vista dignitaries and media at our opening ceremony at 12:30 pm at Metfield Skills Park. We want to have our club membership well represented at Field Day for our guests and media. The Press Release sent to local television and print media is below.
Here is the complete schedule for this year's Field Day along with a map to the location:
Location:
Metfield Skills Park, Bella Vista
Friday, June 23rd
1:00 PM – A crew of volunteers for antenna setup
Saturday, June 24th
Station setup Saturday 8:00 – 9:00 am:
CW (Morse Code
Phone
Digital
GOTR (Get on the Air)
Talk-In – (147.255/444.1)
Welcome – BVRC President Jan Hagen WB5JAN 12:30
Introduction of Dignitaries
Proclamation by Bella Vista Mayor – John D. Flynn
Reading of The Radio Amateur's Code
Reading a synopsis of the ARRL FD Rules
Field Day 2023 begins – 1:00 pm
Parking Lot Tailgate (Buy and Sell Radio Equipment – 1 pm – 6 pm
VE LicenseTesting – 2 pm
Radio Fox Hunt – 4 pm
BBQ Dinner – 6 pm
Stations operate through the night
Breakfast Feast – 8 am
Sunday, June 25th
Tear Down – 1:00 pm (some of us will have been up for 30+ hours – volunteers appreciated)
__________________________________________________________________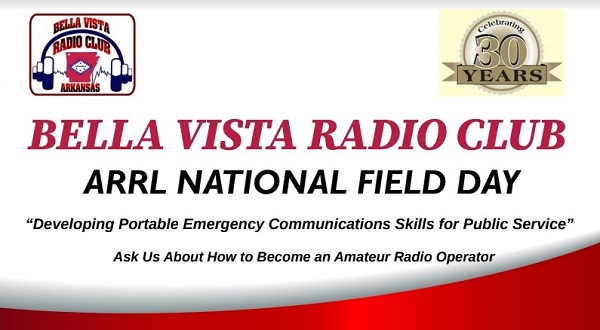 Contact: Tom Northfell
Bella Vista Radio Club Media Liaison
479-530-0967
FOR IMMEDIATE RELEASE
June 3, 2023
Bella Vista Radio Club Celebrates 30 years of Emergency Communications Capability with Public Demonstration at Metfield Skills Park in Bella Vista June 24th!
Bella Vista Radio Club, the largest Amateur Radio Club in Arkansas, will celebrate its 30 years of existence and hold a public demonstration of "Ham" radio portable emergency communications capabilities on June 24th at Metfield Skills Park in Bella Vista.
The demonstration, called "Field Day" by amateur radio operators nationwide, will begin with opening ceremonies at 12:30 pm with a proclamation by Bella Vista Mayor John Flynn declaring the week of June 18th "Amateur Radio Week in Bella Vista."
Also attending the opening ceremonies will be Tom Judson, Bella Vista POA General Manager, and JB Portillo, Bella Vista Community Television host.
Throughout the "Field Day" demonstration the public will be invited to "get on the air" talking with other ham operators nationwide under the guidance of a Bella Vista Radio Club member. Another activity, sure to be fun for children and adults alike, is radio direction finding or "fox hunting" where small radio receivers are used to find hidden transmitters around Metfield Park.
"Hams have a long history of serving our communities when storms or other disasters damage critical communication infrastructure, including cell towers," said Tom Northfell W5XNA, Bella Vista Area Radio Club Field Day Coordinator. "Ham radio functions completely independently of the internet and phone systems and a station can be set up almost anywhere in minutes."
"We are honored and pleased to have Mayor Flynn, POA General Manager Tom Judson, and Bella Vista Community Television host JB Portillo join us for our opening ceremonies as we kick off our 2023 Field Day event." said Jan Hagan, WB5JAN, President of the Bella Vista Radio Club. "Our club has grown to include membership throughout Northwest Arkansas and we are excited to demonstrate our capabilities to the public throughout our region."
About Amateur Radio
Amateur Radio (ham radio) is a popular hobby and service that brings people, electronics and communication together. People use ham radio to talk across town, around the world, or even into space, all without the Internet or cell phones. It's fun, social, educational, and can be a lifeline during times of need. http://www.arrl.org/what-is-ham-radio
About Field Day
Field Day is ham radio's open house. Every June, more than 40,000 hams throughout North America set up temporary transmitting stations in public places to demonstrate ham radio's science, skill and service to our communities and our nation. It combines public service, emergency preparedness, community outreach, and technical skills all in a single event. Field Day has been an annual event since 1933, and remains the most popular event in ham radio. http://www.arrl.org/field-day
About Bella Vista Radio Club
The largest Amateur Radio Club in Arkansas https://bellavistaradioclub.org/