147.255 MHz, +600 KHz offset with a PL tone of 162.2
444.100 Mhz, +5 Mhz offset with a PL tone of 162.2
Bella Vista hams have provided NW Arkansas and SW Missouri with reliable repeater service for over 30 years. Our repeater has had several callsigns, but is now identified as N5BVA.
The BVRC 147.255 repeater uses an ICOM FR-3000 with duplexer and a DB-224E. Our antenna is at the ~120 foot level of the hilltop tower across from the Jane Walmart on Highway 71. (courtesy of K5SRS Thanks Mike!).

Attention, BVRC members and especially those members who live in the southern portion of the BVRC membership area (Washington, Madison, and Sebastian counties, AR, and Adair Co., OK):
We now have a repeater on Dodd Mountain in Springdale, AR.. Thanks to Jon Williams, K5DVT, who graciously donated a Kenwood repeater to the Bella Vista Radio Club.
The new N5BVA Springdale repeater information is:
FREQUENCY: 444.100, OFFSET: + 5 MHz, PL TONE: 162.2
This UHF repeater is permanently linked to the Jane MO. repeater with an addition of a Motorola UHF radio and Yagi antenna at the Jane repeater site, compliments of Steve Werner, K5SAW and Tem Moore, N5KWL.
For persons in the north coverage area, the BVRC Bella Vista flagship repeater (147.255) is operating as it always has.
For persons in the south coverage area, and especially our members who are new to the hobby and may only have an HT, which is usually difficult to access the N5BVA Bella Vista 147.255 machine with, you will now be able to check-in to the Club Nets quite easily through our new linked repeater, the N5BVA Springdale machine! (You will need a UHF capable HT as the new Springdale machine is a UHF repeater.)
We would appreciate signal reports, both on-air and via Email. Enjoy!

The repeater was originally put on the air by the Bella Vista Repeater Group around 1990, reflecting the desire to have an independent repeater. In the fall of 2014, the club was renamed the Bella Vista Radio Club, reflecting broader multi-band and mode interests among our group. Check out more club HISTORY here.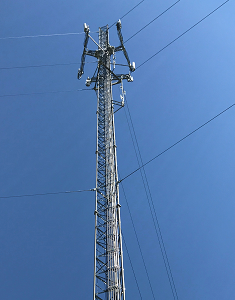 In 2016, a DJI Phantom drone owned and piloted by Darren Davis of the Benton County Flying Tigers R/C Club was instrumental in assisting with identifying storm damage to the old repeater.