"Mr. Arkansas QSO Party"
Don Banta, K5DB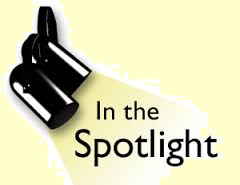 BVRC salutes Don Banta, K5DB, on receiving the ARRL-Arkansas Section award as "Mr Arkansas QSO Party." The recognition was presented by AR Section Manager J Ferguson, N5LKE, for Don's tireless efforts organizing and promoting the annual QSO Party for the past 20 years.
We did a "Q & A" with Don, who has served BVRC as vice president and also editor of The Signal newsletter (now in hiatus).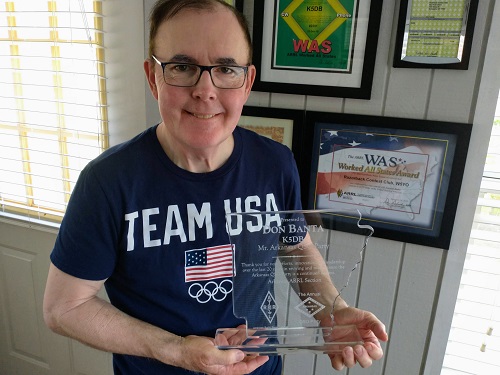 BVRC: How long have you been licensed, and from what age?
K5DB: Was first licensed in 1969 at age 13 with novice callsign WN5ZKE, then upgraded to General and WA5ZKE in 1971. You won't be surprised to learn that my nickname among the members of the North Arkansas Amateur Radio Society in Harrison was "Zeke", hi hi. Upgraded to Advanced and Extra class in 1999, when I acquired vanity call W5RL. I thought I would keep that callsign for the rest of my life, when the opportunity arose in 2002 that enabled me to acquire the callsign with my initials, K5DB.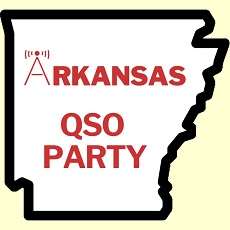 BVRC: Your Dad was a ham. What was his name and call sign?
K5DB: Ralph – WB5ANK. We operated thousands of hours together, and had a ball doing it with a complete Drake 4 line station and tri-band beam/inverted vee antennas on a 110' tower.
BVRC: What is your history of participating in various QSO Parties around the country?
K5DB: My first QSO party was the Arkansas QSO Party in 1971. I then participated in the California party, and was hooked on state QSO parties. That was 50 years ago. I have participated in many other. In particular, California, Pennsylvania, Florida, Texas, Oklahoma, Kansas, Missouri, and Illinois all have great qso parties and are well managed, but there many, many other very good state qso parties to enjoy.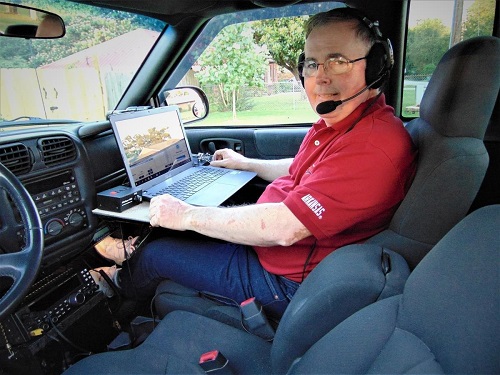 BVRC: How long did you manage the AR QSO Party?
K5DB: I took over the ARQP Manager position from J.K. Fancher, W5WEE, in 1972 and administered it for 1972, 1973 and 1974, when I graduated from high school and went to college, at which time I had to quit. No one ever took-over the managership that I know of. I went on a 25-year hiatus and did not get back into the hobby until 1999. When I did, the Arkansas QSO Party was non-existent, so I endeavored to resurrect it. It was very difficult those first few years, as there was very little interest and participation. But, with numerous trips to hamfests handing-out pamphlets, talking-up AQP on the air, and hundreds of e-mails, interest has continued to grow.
BVRC: What was your reaction to the 'Mr Arkansas QSO Party' award?
K5DB: Shocked and honored. It has immediately become my most treasured award, along with my 5BWAS, 5BDXCC, and 5BWAC awards.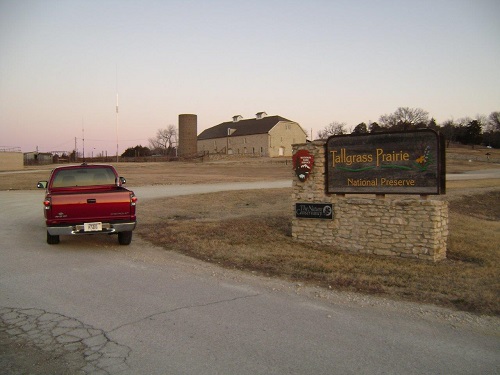 BVRC: What are some estimates of the number of in-state and out of state participants, QSOs, counties activated, etc.
K5DB: The last year of my tenure as ARQP Manager – 2020 – was the best of any of them:
47 out of the 50 states participated.
The # of log entries was 411, steamrolling the previous record of 189 entries from 2019. It also broke the DX record with 9 countries submitting logs.
45 of Arkansas' 75 counties were activated in 2020. The record was in 2017 when between home, rover, and mobile stations – 73 were activated.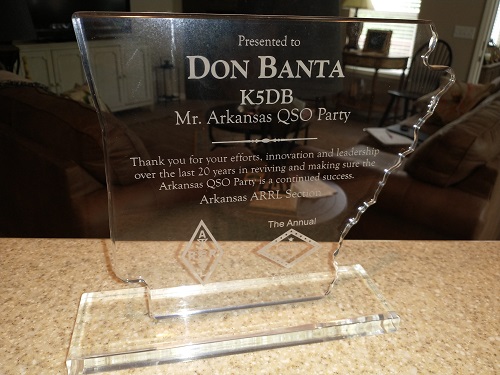 BVRC: What are some of the benefits of participating in a QSO Party?
K5DB: There are several.
1.) Above all, a QSO party (as with other on-air contesting activities) helps the operator improve and hone operating skills, such as copying different callsigns without error, exchange information correctly, log and record keeping, and equipment management and maintenance to ensure their station stays operational throughout the event. All this contributes to a 'state of readiness' should we be needed during a catastrophe or emergency, and called upon to assist with emergency communications.
2.) Pursuing awards such as working the 50 states and/or individual counties within a state.
3.) Meeting old and new friends alike on the air, and having fun.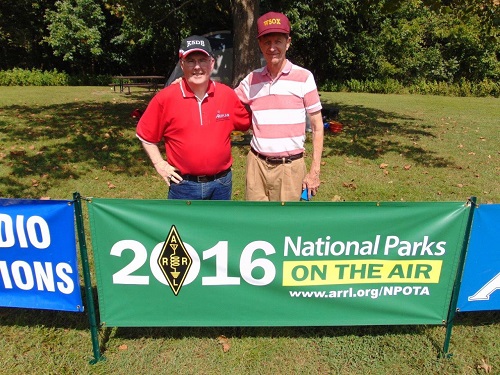 BVRC: Looking back, what are you most proud of, in connection with the AR QSO Party?
K5DB: I am most proud of ALL of our beloved Arkansas radio amateurs who have participated in ARQPs over the years. Without them, there would not be an Arkansas QSO Party. I am so very grateful in receiving the recognition for managing the QSO party over the years, but THEY ARE THE TRUE HEROES of the ARQP.
BVRC: What would you say to other hams who do not participate in their State's QSO Party?
K5DB: I would heartily encourage them to join the ARQP operator ranks and get involved. It is only a once-a-year event and doesn't take-up that much time. Whether you operate as a home station, rover station, portable or mobile station, you can have an infinite amount of fun and a rewarding experience.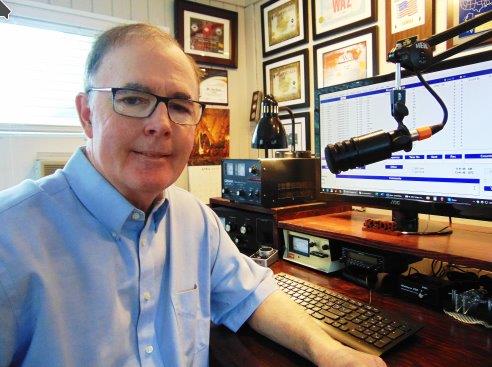 BVRC: What are your future plans for operating in QSO Parties (which / when, etc)?
K5DB: As soon as I retire (hopefully in the next 2-3 years), I will be right back in the mix! Even though I will not be managing the ARQP any longer, I will STILL be doing my part in enjoying running HF mobile and helping others work as many Arkansas counties as I can make available to them.
BVRC: In addition to retirement, do you have other ham radio goals?
K5DB: My top personal radio goal at present is to work 300 DXCC countries. I currently have 282.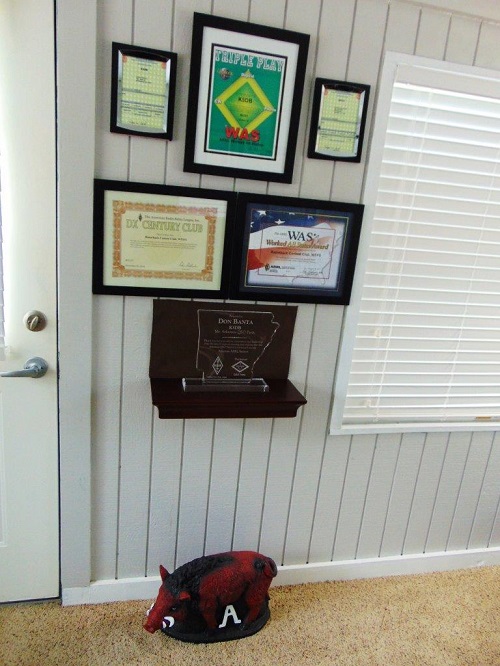 BVRC: Anything else you'd like to say, or share with us?
K5DB: I would like to say a HUGE word of thanks to the Noise Blankers Radio Group for stepping forward and accepting the 'passing of the ARQP torch.' They are a quality group of hams and will be successful in promoting and administering future Arkansas QSO Parties, making it thrive.
BVRC: Don has served BVRC as Vice-President, 2019 Field Day Coordinator, and editor of The Signal newsletter (now in haitus). As if he doesn't have enough to do, K5DB's other hobbies include reading, theology, history, biography, and gardening. Congratulations Don Banta, K5DB, "Mr. Arkansas QSO Party!"
Interview by Ron Evans, K5XK