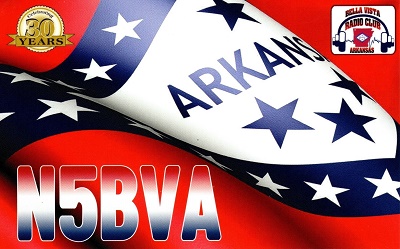 To celebrate BVRC's 30th anniversary, the club will be on the air with, not one but two, Special Event Stations. Your past President Tom-W5XNA and past Vice-President Don-K5DB will be coordinating these stations. There will be a spring Special Event Station and a fall Special Event Station.
The Spring Special Event Station has already been arranged. The details are:
NAME: N5BVA Spring Special Event Station
DATE: Saturday, April 29, 2023
PLACE: Elm Springs City Park
290 Jayroe Ave.
Elm Springs, AR 72762
The Elm Springs spring operation will be a good warm-up for ARRL Field Day in June. Restrooms are available in the park. There are nearby eating facilities in Springdale and Tontitown, or you can bring your own food/snacks. All BVRC members and/or their guests are encouraged to attend either, or both, special events. MARK YOUR CALENDAR TO ATTEND, HAVE FUN, AND OPERATE!

For the fall N5BVA Special Event Station, we are seeking a facility that will hopefully be in the Bentonville area. We are currently in contact with Bentonville Parks & Recreation on several options and are currently awaiting their reply. As soon as the fall operating site is secured, you will see it here in The Signal. Also, we will have information for you on two upcoming POTA operations coordinated by President Jan-WB5JAN and Club Call Trustee Glenn-WB5L in next month's Signal issue.