3rd Annual BVRC CW Roundup
August 19 @ 7:00 pm

-

8:00 pm

CDT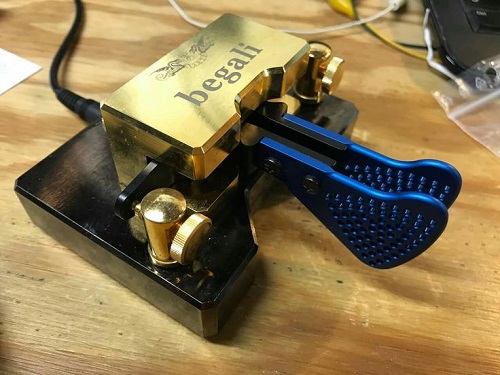 Date: Saturday, August 19, 2023
Time Period: 7pm – 8pm local time (0000-0100Z, August 19) Frequency: 3.540 – 3.560 MHz
Operating classes: CLASS A – BVRC member – Experienced CW operator
CLASS B – Newcomer or newer CW operator (BVRC member or non-member)
CLASS C – Non-BVRC member – Experienced CW operator
CLASS D – Listeners who copy and log only, with the use of FL Digi, code readers, etc.
CQing: Send "CQ CWR CQ CWR"
Exchange: Signal report (including operating class) / QTH (your location) / name
Example: If you are a newer CW operator and you are in QSO with K5XYZ whose signal is readable, their signal strength is registering a '7' on your S-meter and their signal tone is good, your callsign is
W5ABC, you live in Bentonville, and your name is Albert, you would
send something along the lines of:
K5XYZ DE W5ABC (K5XYZ this is W5ABC) BT (break) RST IS 579 B 579 BT
QTH IS BENTONVILLE, AR BENTONVILLE, AR BT NAME IS ALBERT ALBERT BT
HW CPY? (How did you copy my transmission?) K5XYZ DE W5ABC K (Over)
The other station would then reply with their information using the same format. After the exchanges are completed, short informal remarks can be made during the QSO if desired, after which the contact would end with something along the lines of:
TNX FER QSO (thanks for the QSO) GL ES 73 (Good luck and best wishes) K5XYZ DE W5ABC SK (end of contact)
Description of event: This 1-hour event is not a contest. Rather, it is a celebration of our area newcomers, returners to the mode of CW, and listeners. It is also intended to enable our veteran CW operators to enjoy helping the newcomers in making CW contacts. There are no points scored, and no results or standings posted. You do NOT have to bea member of BVRC to participate.
A handsome certificate will be issued to each participant submitting a log entry from the event.
Send logs no later than Saturday, August 26, to Don Banta – K5DB:
Regular mail log: Don Banta 3407 Diana St. Springdale, AR 72764
Electronic log: arsk5db@gmail.com Attach file: [call].log