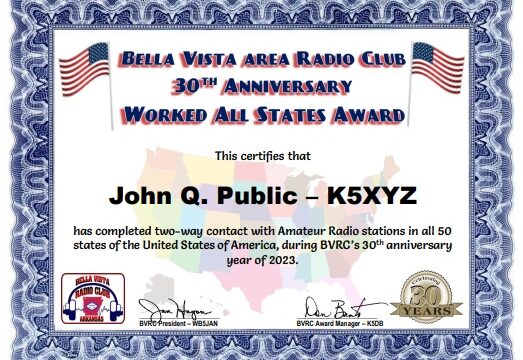 Effective immediately, Bella Vista area Radio Club introduces a special operating award for all BVRC members to help us celebrate
BVRC's 30th birthday!
It is the Bella Vista area Radio Club 30th Anniversary Worked All States award.
We encourage all BVRC members with General license class and above privileges to, if you wish, enjoy pursuing this award for the second half of 2023. The current Solar Cycle #25 is still on the upswing and will reach maximum activity around Sept.-Oct. of next year. This means the bands should be in great propagation condition to easily work all 50 states and, for some of you, achieve your first WAS (Worked All States) award!
Important note:
Although this special award is just now being introduced, any contacts you have made prior to now (January – June) will count for the award since the award is based on the full calendar year 2023. So, be sure and check your prior confirmations through today. You may already have some confirmed states!
For the Rules of this new award, see this PDF.
Best wishes on having a fun "50 state chase" for the remainder of our anniversary year, and thanks for being a BVRC member!
If you have any questions about the award, contact award manager Don-K5DB at: arsk5db@gmail.com